Deerbrook Skilled Nursing Home holds blood drive to support Leukemia and Lymphoma Society
Supporting Blood Cancer Awareness month, local nursing home completes successful blood drive!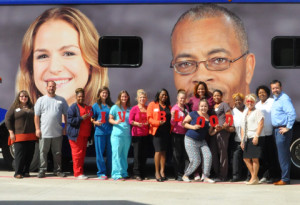 (Humble, Texas)—In recognizing Blood Cancer Awareness month, staff and families of Deerbrook Skilled Nursing facility in Humble lined up to a team of smiling nurses to give blood as part of Leukemia and Lymphoma Society annual blood drive.
September is Blood Cancer Awareness month where our team members have been challenged to participate with fundraising drive and blood drives.
"We had so many family members and staff come out to support the drive, it was very touching to see so many people. Everyone has experienced the pain cancer causes, personally, with a loved one, or a friend who is battling this disease," said Jennifer Glaze, Director of Business Development at Deerbrook facility.
HMG Healthcare, LLC is committed to supporting Leukemia and Lymphoma Society and their mission to cure leukemia, lymphoma, Hodgkin's disease and myeloma, and improve the quality of life of patients and their families. Similar blood and fundraising efforts are happening at each of our facilities.
HMG Healthcare's mission is to deliver premier healthcare services, through dedicated and compassionate employees, accommodating the individual needs of our patients. The company operates 17 skilled nursing facilities, 1 Assisted Living and 3 Independent Living in Texas and Kansas.